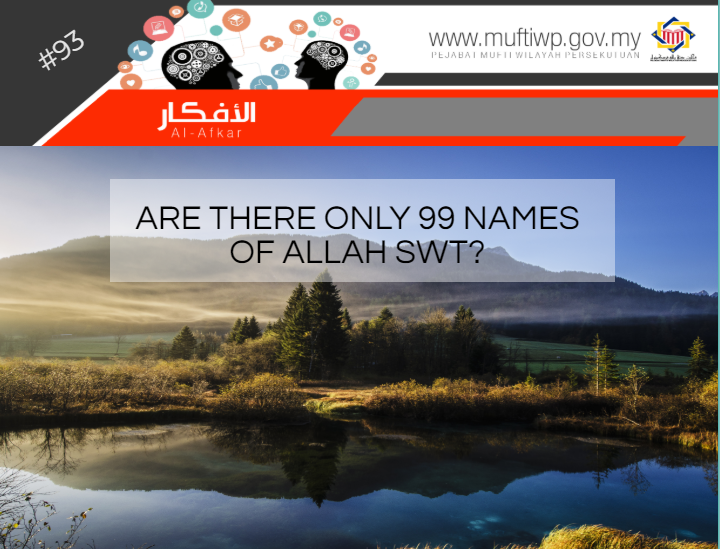 Question:
Assalamualaikum SS Dato' Seri Mufti. Are the names of Allah only 99?
Answer:
Alhamdulillah, praise and thanks to Allah for the countless blessings He has blessed us all with. Blessings and salutations to the Prophet Muhammad PBUH, his wives, his family, companions and all those that follow his teachings to the day of judgement.
Basically, the names of Allah SWT are only known through what is told by He Himself in the Quran or through the saying of His prophets. Those names are among the tauqifiyyah matters. Imam al-Nawawi states: "Indeed, the names of Allah are tauqifiyyah, in which, they cannot be stated except through sahih dalil." (See al-Minhaj fi Syarh Sahih Muslim Ibn al-Hajjaj, 7/188)
In answering the above question, we start with a hadith narrated by Abu Hurairah RA where the Prophet PBUH said:
إِنَّ لِلَّهِ تِسْعَةً وَتِسْعِينَ اسْمَا مِائَةً إِلاَّ وَاحِدًا مَنْ أَحْصَاهَا دَخَلَ الْجَنَّةَ
"Allah has ninety-nine names, i.e. one-hundred minus one, and whoever knows them will go to Paradise."
Sahih al-Bukhari (2736) and Sahih Muslim (2677)
However, the hadith does not indicate that the names of Allah SWT are limited only to 99 names. Imam al-Nawawi explains: The scholars have decided that this hadith does not limit the numbers of Allah's names. This hadith does not mean: That there is no other name other than these 99 names. Indeed, the meaning of this hadith is if one practices ihsa' (believing, having faith and invoking) these 99 names, then he would enter the paradise. (See al-Minhaj fi Syarh Sahih Muslim Ibn al-Hajjaj, 9/39)
Pertaining to the meaning of 'أَحْصَاهَا', we already explain it in detail in Irsyad al-Hadith Series 25: The Hadith of "Whoever Memorizes the 99 Names of Allah Will Enter the Paradise". Briefly, we are of the opinion that it carries the meaning of believing with absolute certainty while invoking Him.
Indeed, Allah SWT's names are limitless in numbers. There are other names which He keep secret by His unseen knowledge. In a hadith narrated by Abdullah bin Mas'ud RA, the Prophet PBUH said: "No problems or sadness that befall a person, then he recites:
اللَّهُمَّ إِنِّي عَبْدُكَ ، وَابْنُ عَبْدِكَ ، وَابْنُ أَمَتِكَ ، نَاصِيَتِي بِيَدِكَ ، مَاضٍ فِيَّ حُكْمُكَ ، عَدْلٌ فِيَّ قَضَاؤُكَ ، أَسْأَلُكَ بِكُلِّ اسْمٍ هُوَ لَكَ سَمَّيْتَ بِهِ نَفْسَكَ ، أَوْ عَلَّمْتَهُ أَحَدًا مِنْ خَلْقِكَ ، أَوْ أَنْزَلْتَهُ فِي كِتَابِكَ ، أَوْ اسْتَأْثَرْتَ بِهِ فِي عِلْمِ الْغَيْبِ عِنْدَكَ ، أَنْ تَجْعَلَ الْقُرْآنَ رَبِيعَ قَلْبِي ، وَنُورَ صَدْرِي ، وَجِلَاءَ حُزْنِي ، وَذَهَابَ هَمِّي
O Allah, indeed, I am Your servant, the offspring of Your male servant, the offspring of Your female servant, my forelock is in Your hands, Your decree has been stated, You have been just upon me with Your decree, I beg of You by all the names You name Your-self, or what You have taught to one of Your creations, or what You have revealed in Your book, or those You remain as secrets in Your knowledge, (I beg of You) to make al-Quran as the coolness of my heart, the light in my chest, the remover of my sadness, the lifting of my hardships,"
(When one recites this du'a), surely, Allah will remove his hardships and sadness and give him a way out. Abdullah bin Mas'ud RA asked: "O the Prophet PBUH, should I learn this du'a?" He answered: "Surely, whoever hears of it must learn it."
Musnad Ahmad (3583)
Imam al-Khattabi and others said: "This shows that He has names He keeps as secrets. This shows that what is said by the Prophet PBUH: "Indeed, Allah has 99 names, whoever reads it will enter Paradise," means that Allah SWT has 99 names in which when one believes in them, he will enter Paradise. Just like when one says, "I have a thousand dirham which I prepared for sadaqah", but his money in truth is so much more than that. And Allah SWT says in the Quran, "وَلِلَّهِ الأَسْمَاءُ الْحُسْنَى فَادْعُوهُ بِهَا" (And to Allah belong the best names, so invoke Him by them). He commands to invoke by these best names in an absolute manner. He never states that His names are only 99." (Cited from Majmu' al-Fatawa, 22/282)
While Ibn Qayyim explains: These best names of Allah are limitless in number. Indeed, Allah has names and attributes which He keeps secrets in His knowledge. Even the angels who are close to Him also don't have knowledge on this, neither do the Prophets AS as stated in the above hadith (by Imam Ahmad). He already makes His names divided into three divisions:
Names which He gives upon Himself and He manifest this to those He wants among His angels and others, but not stated in His books.
Names which He reveals through His books to make Himself known by His servants, and;
Names which He keeps secrets in His unseen knowledge and are not known by any single creation. (See Badai' al-Fawa'id, pg. 176)
Hence, from the above evidence and statements, it is clear that the names of Allah SWT are not limited only to the 99 names only. Indeed, the names of Allah SWT are limitless in number.
There are names of Allah SWT which He manifests to others that they become known, and there are other names which He does not state and remains as secrets in His knowledge that no single creation knows of it.
May Allah SWT bless us with knowledge and understanding to practice all His commandments. Amin.