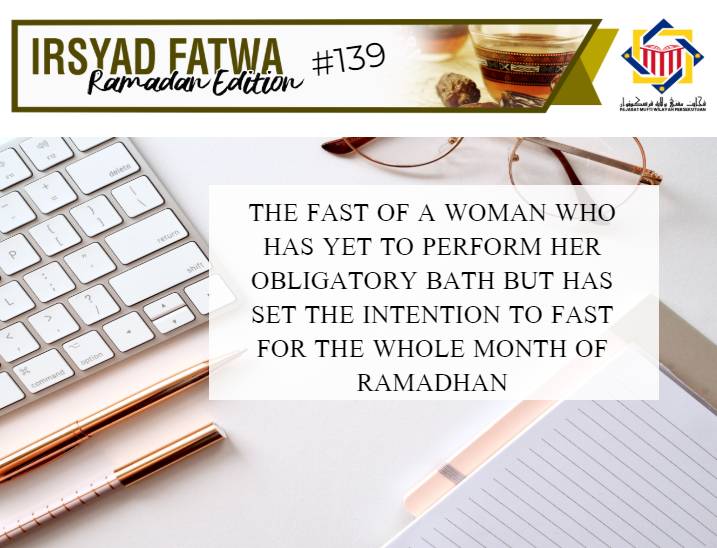 Question:
Assalamualaikum ustaz. My menstruation has ended but I did not realize this and thus did not get the chance to perform the obligatory bath in the morning. However, I have set the intention to fast for the whole month. I performed my obligatory bath after I came back home in the evening. Is my fast valid?
Answer:
Waalaikumussalam wrt, wbt.,
Alhamdulillah, praise and thanks to Allah for the countless blessings He has blessed us all with. Blessings and salutations to the Prophet Muhammad PBUH, his wives, his family, companions and all those that follow his teachings to the day of judgement.
We have previously answered on the issue of setting the intention for Ramadhan fasting in the article Irsyad Fatwa Ramadhan Edition Series 74: Setting Intention for Fasting in Ramadhan; Every Night or for Thirty Days at Once? [1] The conclusion of the discussion is it is permissible to set the intention for a whole month as an ihtiyat (precautionary step) at the beginning of Ramadhan at the same time plan to set the intention every night. Thus, if a person forgets to set his intention on the night of the day, then his intention for a whole month is sufficient and his fast is valid according to the opinion of some scholars of madhhab Syafie and madhhab Maliki.
However, we would like to state that it is an obligation and responsibility of every Muslimah to observe her purity state especially the time her menstruation ends. The reason is it is not only closely related to the worship of fasting but also prayer a greater worship. It is an obligation for every Muslim woman to check on her purity state for each prayer time. Allah SWT states:
إِنَّ الصَّلَاةَ كَانَتْ عَلَى الْمُؤْمِنِينَ كِتَابًا مَوْقُوتًا
"Indeed, prayer has been decreed upon the believers a decree of specified times."
Surah al-Nisa' (103)
Purposely neglecting to purify oneself such as did not perform the obligatory bath or ablution nor perform the Subuh prayer is a major sin that should not be considered lightly. The same for Zuhr and Asar prayers.
Lastly, we advise the questioner to be extra cautious, repent from your mistakes and learn more about purification so that the fast that is performed in this honoured month of Ramadhan would not be in vain. The Prophet PBUH said:
رُبَّ صَائِمٍ لَيْسَ لَهُ مِنْ صِيَامِهِ إِلَّا الْجُوعُ، وَرُبَّ قَائِمٍ لَيْسَ لَهُ مِنْ قِيَامِهِ إِلَّا السَّهَرُ
"There are people who fast and get nothing from their fast except hunger, and there are those who pray and get nothing from their prayer but a sleepless night."
Sunan Ibn Majah (1690) [Syeikh Syu'aib al-Arnaut evaluated the hadith as sahih and its sanad is good]
We have also discussed this issue and presented the statements of scholars in the article The Ruling of Those Who Fast but Do Not Pray. [2]
Wallahua'lam.
Endnotes:
[1] Please refer to https://muftiwp.gov.my/en/artikel/irsyad-fatwa/irsyad-fatwa-khas-ramadhan-cat/1056-irsyad-fatwa-ramadhan-edition-series-74-setting-intention-for-fasting-in-ramadhan-every-night-or-for-thirty-days-at-once
[2] Please refer to https://muftiwp.gov.my/en/artikel/irsyad-fatwa/irsyad-fatwa-khas-ramadhan-cat/1966-the-ruling-of-those-who-fast-but-do-not-pray